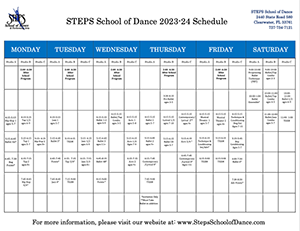 Use our convenient class schedule to help decide which class or program works best for your young dancer!
The foundation for all other forms of dance commonly practiced today, Ballet is a classical dance form dating back to the fifteenth century that involves formal technique including arm, leg, and foot positions to make lines with the body. Balance and correct body posture are the basis for turning, lifting and jumping. Instruction in Ballet is an important first step for any new dancer and needs to be continued throughout a dance life!
Tap, where the traditional and formal foundation of dance progresses to a focus of musicality and rhythm. Tap is where a dancer also becomes a musician in the art of percussion. Tap is also characterized by syncopation and improvisation and is where the skill of learning, memorizing, and retaining choreography is imperative. Influenced by jazz and a touch of rock and roll, tap requires tons of personality that prepares the student for pairing their newly learned skills with performance flare.
Contemporary is a hybrid of ballet, jazz, lyrical and modern dance styles. It is a ballet-based technique that allows a greater range of movement than the strict body lines and foot work found in traditional schools of ballet. Contemporary Ballet exposes dancers to a wide range of techniques that fosters versatility. This class focuses on centering, strengthening the body, increasing flexibility, improving balance, proper placement, body alignment, fluidity and emotion. The dancer learns to let the music and their own passion guide the movement. The class consists of a warm up with stretching, ballet barre, centre work, and a full dance routine at the end of the class which is all set to contemporary music. The class will let you express yourself through dance and is a benefit to all levels of dancers.
Jazz began as just social dance while the music genre gained large popularity and went on to become a focal point in theatre and Broadway productions. Jazz dance has progressed alongside popular music and encourages individuality and self-expression in conjunction with technique. A strong foundation in ballet is important as jazz is heavy in leaps, turns, and kicks and will require strength, agility, and core flexibility. This high-energy style brings a whole new fun factor to traditional dancing and will let your personal spirit shine.
Lyrical is a Jazz style where dancers do more flowing movements with more emotion and feeling. Jazz has more extension and is slower than traditional jazz. It emphasizes performance and portrayal of emotions.
Hip Hop dance began as street dance mainly consisting of freestyle evolving with the music and culture with a strong presence in urban neighborhoods. Breaking, popping, and locking were the main styles of hip hop dance when it began and attained mainstream attention in the 80s in TV and film. The dance and entertainment industries created an adaptation of this referred to as "new style" or "commercial dance" which is what you will often find in studios. This is more closely connected to what you see now in music videos, live shows, and TV. Hip hop is quite the opposite of your traditional ballet in that it is hard-hitting, energetic, intense, grounded, and sharp. It will incorporate isolations, lines, grooves, levels, larger movement, and lots of attitude. While there is strong foundation and a unique type of technique in hip hop, it is very individualistic which makes it so wonderful. 
Musical Theatre encompasses dancing and acting as well as singing. Acting is important as a dancer to learn stage presence and will greatly improve performance ability. Musical theatre is similar to broadway and will prepare dancers for a successful career.
Acrobatics is a completely different style where you learn how to flip and do tricks in the air. Starting off with basic cartwheels, dancers eventually learn how to do aerials and other advanced steps. Acro also strengthens dancers and will help them with other styles as well.
Pointe is an advanced version of classical ballet classified by the use of pointe shoes and pointe technique. The dancer appears to be completely vertically supported by the tips of their toes and the style was created to make dancers appear weightless. The shoe is constructed with a toe box for cushioning as well as additional support in the sole for the arch of the foot. Pointe focus heavily on alignment, extension, placement and is very technical. A student is ready for pointe after mastering fundamental ballet technique, which can be determined by the teacher. It is a gradual transition and will be introduced to proper technique carefully.